AMERICAN MURAL STUDIES
Building on works that have been in our inventory for more than a decade and some that came in just this spring, this group of Mural Studies ranges from the modestly sized Samuel Greeenburg 1940s rural scene at 6 x 8 to Hugh Mesibov's 1940 Life of a Miner at 63 inches. Some are early suggestions of images such as Louis Schanker's drawings for the World's Fair Mural, 1939, while others like Mordi Gassner's Coca Cola, a private submission of 1932, are finished in fine detail.
It is unlikely that there will be additional subjects added to this list -- an odd one or two perhaps, but very, very few. Itís a condensed number of years and although Iíve stretched the definition of Ďstudy,í itís unlikely that new discoveries will be made, although itís nice to think that they might be.

2020, JAN 2 - MAR 30

View Exhibition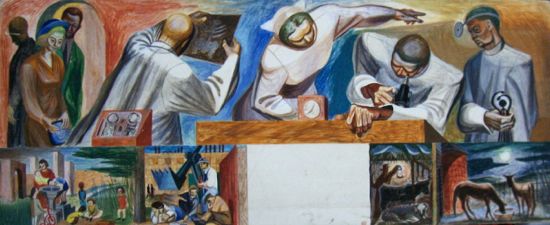 Axel Horn, Medical Mural Study, 1939